Above Ground Heating Oil Tanks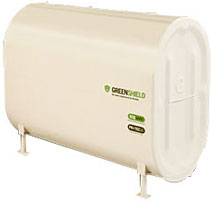 When it's time for a new fuel storage tank, you want your old tank decommissioned safely and cleanly with your new tank installed securely. Stafford Oil & Propane will replace your tank with a modern, versatile above ground oil tank; they can be installed in your basement, garage or any shaded area that is near your home.
As a local, family-owned and –operated heating company, we are fully versed in regional ordinances and legal requirements, assuring that your tanks will be removed and installed according to code.
We take our responsibility even further by offering a low-cost oil tank protection plan that covers most (if not all) of your costs to replace a leaking tank, enhancing our heating oil with an advanced additive that reduces rust and corrosion, and delivering only high quality heating oil and propane.