Reliable Home Heating Oil and Propane Delivery in All Weather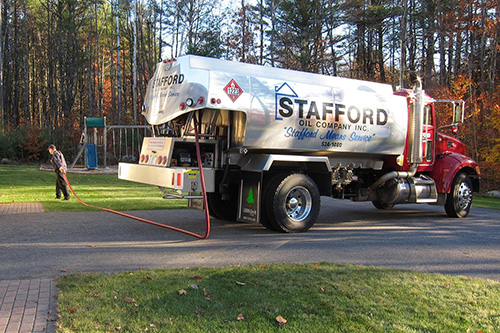 Through winter storms and heavy snows, Stafford Oil & Propane delivers! Our trucks are on the road every day, making sure the high quality heating oil and propane you need is delivered to your tank.
We built our reputation on reliability, and we take that very seriously. Our customers know that when they need home heating oil and propane, they will get it – with a smile from our driver and low prices that put a smile on their faces. Stafford Oil & Propane customers also know they can call us 24/7 for emergency deliveries and repairs, or anytime for annual heating equipment maintenance and service.
The Benefits of Heating Oil:
Stafford Oil & Propane only provides the best fuels to our Belknap County customers. Today's heating oil is much more clean, efficient, and effective than standard and past fuels. Heating oil provides the comfort you need all year round, without burning through your entire fuel supply.
Throughout the years, the sulfur content in heating oil has been drastically reduced, making it much more environmentally friendly while also keeping your heating system healthy. Fueling your home with heating oil allows you to reduce fuel expenses, heating system maintenance, and fully maximize your comfort no matter the weather.
The Versatility of Propane:
Propane is known as one of the safest, dependable and versatile fuels on the market. It's perfect for year-round usage and comfort. Whether you're looking to get cozy by the fireplace on a cold winter night, or enjoy a delicious summer barbeque on the grill, propane can help you make the most of any activity. Fuel your entire home or just a few appliances with this green fuel.  We're proud to deliver propane to all of our New Hampshire customers.
Our automatic delivery service is another way we help make sure you have the home heating oil and propane you need. We use advanced computer tracking to calculate when you will need more fuel, using a 'degree days' metric that tracks daily temperatures and compares it to your historical or estimated heating usage. We schedule your delivery and fill your tank so you won't have to trudge outside to check your tank gauge or call for a delivery. Automatic delivery is completely free, and makes you eligible for our wallet-friendly payment plans, too.
Some customers prefer to manage their fuel deliveries themselves, and that's fine too! You can always track your own usage and order fuel through our customer portal. New customers can become a customer online or simply give us a call. If life got in the way and you need the fuel right away, please be sure to let us know when you call so we can schedule your emergency fuel delivery. Out of area or overtime delivery charges may be applied.
You are eligible to sign up for automatic delivery if:
You have established 30-day payment terms with us.
You pay for your delivery when you receive it, and you have authorized us to charge your credit card to pay for your deliveries when you receive them.
You are a Prebuy customer placed on automatic delivery based on the terms and conditions of our Prebuy program.
Prompt Pay Discount
Automatic delivery customers – or will-call customers getting a delivery of more than 125 gallons – save 15¢ per gallon if payment is made within 10 days of delivery.
The dates on which automatic delivery customers receive their deliveries are estimated based on degree days and past fuel consumption. Automatic delivery does not guarantee a customer will not run out of fuel in the event that their home consumption levels are higher than anticipated. Please be sure to call us with any changes to your household that might impact fuel usage, such as a home extension, working from home, new baby, etc.
Our team of representatives are always happy to answer any questions you may have. Want to request a service or fuel refill? Want to know today's heating oil and propane prices? Give us a call or visit our contact us page to get in touch with us!