Home Heating Equipment and Services for Central New Hampshire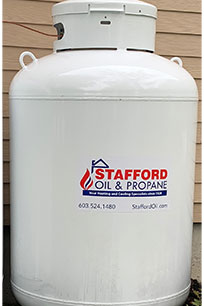 There's a good reason why homeowners in the Lakes Region have relied on Stafford Oil & Propane for their heating system services for more than 90 years. We have been providing dependable heating fuel delivery and expert service, tune-ups, emergency repairs, sales and installation since day one!
Your best bet for trouble-free, reliable heating all season is to schedule a heating system tune-up every year. An annual tune-up can reduce your expenses on propane or heating oil by up to 10%. Our technicians check your systems thoroughly and perform needed adjustments to make sure your system is working at optimal capacity. This increases your heating system's efficiency, requiring less fuel all year long. During the tune-up we will be able to identify and correct issues that could turn into bigger problems if left unchecked, so you don't experience a heating shutdown in the middle of winter
The Stafford Oil & Propane NORA-trained and certified service team should be your first call for any heating issues. We perform regular repairs during business hours, and offer 24/7 service for no heat or hot water emergencies for our customers.
If you find your old heating equipment is breaking down more frequently, is making a lot of noise, doesn't seem to be heating as well as in the past, or using up heating oil or propane more frequently than usual, then it's probably time for you to look into upgrading your heating equipment. We offer free estimates and no-surprise pricing on replacing your propane or oil fueled boilers, furnaces and water heaters, as well as heat pumps. Our experts will work with you to provide the most energy efficient heating solution for your home, considering your budget and our Lakes Region climate. There won't be any surprises when it is time for your heating system installation, either – unless the surprise is how stress-free it will be!
We will give you a range of heating equipment options – all from top quality, reliable manufacturers – and review the differences between each one, so you know exactly what you are purchasing, and how much you can expect to save from the higher efficiency of your new heating system when it is installed to brand specifications by our pros!
Please use our online service request form or call us at 603-524-1480 for non-emergency repairs, a free estimate or to schedule your annual tune-up. For a critical emergency, such as strange odors or smoke/carbon monoxide detectors sounding, call 911.
Learn more about our heating services, then become a customer or contact us for more information.