Four Generations of Family Owned Heating and Cooling Services

In 1928, George C. Stafford and his sons Walter, William, David, Theo and Charles opened George C. Stafford and Sons, selling heating oil, gasoline and appliances. His sixth son, Carroll, was a Judge of Probate Court, and his daughter Grace worked with her mother, Regina, in the family bakery. When George died in 1938, his sons continued running the family business.
Charles' son-in-law, Warren Mitchell, joined the company in 1963, and his son Charlie came on board in 1970. The brothers-in-law purchased the home heating division shortly thereafter and renamed it Stafford Oil Company. The new company was built on the tenet that "it's important to give back to the community and customers who have given you so much," and the work ethic that was handed down from the first and second Stafford generations.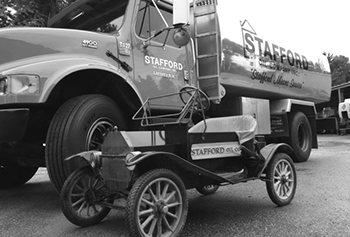 The fourth generation of Stafford family members joined the company in 1981 with Warren's son-in-law, Jeffrey Pearson, who was the company Vice President until his retirement in 2014. Curtis Stafford, Charlie's son, joined the company in 2006. Today, Curtis is the fourth-generation Stafford to sit as President of all the Stafford companies.
What We Do
Over the years the company has grown by building long-term relationships with customers – many of whom are third-and fourth-generation families – and acquiring smaller local businesses. We recently expanded our services to include propane delivery and equipment repair and updated our corporate name to Stafford Oil & Propane. We consider each of our 8,000 customers a friend and neighbor, and continue to treat them with the same care, consideration and courtesy that George and his sons insisted on more than 90 years ago.
For over 90 years the Stafford family has served its customers—through ups and downs in the economy, war and peace, energy price fluctuations and other geopolitical challenges—and we look forward to doing so for many years to come.